Spooky, Splodgy, Creepy Crafting, Mightily Messy and Frighteningly Fun!
Well, we decided Halloween just wouldn't be Halloween without a bit of Halloween crafting! It seems that there are more decorations and outfits for Halloween in the shops than there is at Christmas, but we thought, we could do it better ourselves, and by golly we were right. 
We decked out the Carless Eco Centre with a few decorations and we crossed off our Halloween craft wish list, paint – check, glue – check, pens, pencils and crayons – check, lots of enthusiastic and creative children ready to make brilliant artwork and a hugely brilliant mess – check!  We certainly weren't disappointed when children one by one arrived, eager to dive into all the activities we had. These included leaf art. What better time for any of us to enjoy a bit of leaf art, when all the trees are turning bright orange, gold, rusty red and bright yellow. Making pictures with all different kinds of leaves scattered around the Moorpool Estate. Collecting them is only half the fun, it's using our imaginations to create brilliant pictures, is the best bit and all you need are leaves, paper and glue. We had some wonderful pictures made including Sonic the Hedgehog, some very modern collage and a mouse. Just to put a big shout out to Sofia, aged three our youngest volunteer, leading the way with her animal pictures that wowed us! Sofia has been our chief leaf collector in charge and leaf art designer extraordinaire, letting her imagination run wild and coming up with brilliant ideas, as well as making the most of the sunshine outside, inspecting our sunflowers and planting in our raised beds.
Thank you, Sofia. 
Then we did finger and handprints, always a little bit spooky, but for the parents on board, what was even scarier was the mess! But we didn't care because as far as we were concerned the bigger the mess the more fun was had. We also did plate painting, we provided scary themed images including Dracula, A Mummy, a scary pumpkin and Frankenstein. But in the end the children let their imaginations run wild and came up with some brilliant and colourful creations which we were amazed by. We made monsters out of play dough using googly eyes, crunchy leaves and weird and wacky shapes, another hit was our Halloween paper chains, which got longer… and longer… and longer! And not forgetting our flying bats. Our youngest crafter was just seven-months old and grabbed a paint splodger, under mom's supervision of course and splodged paint all over her paper. Not to mentions wax crayon scribbles and crunchy leaves and she never stopped smiling.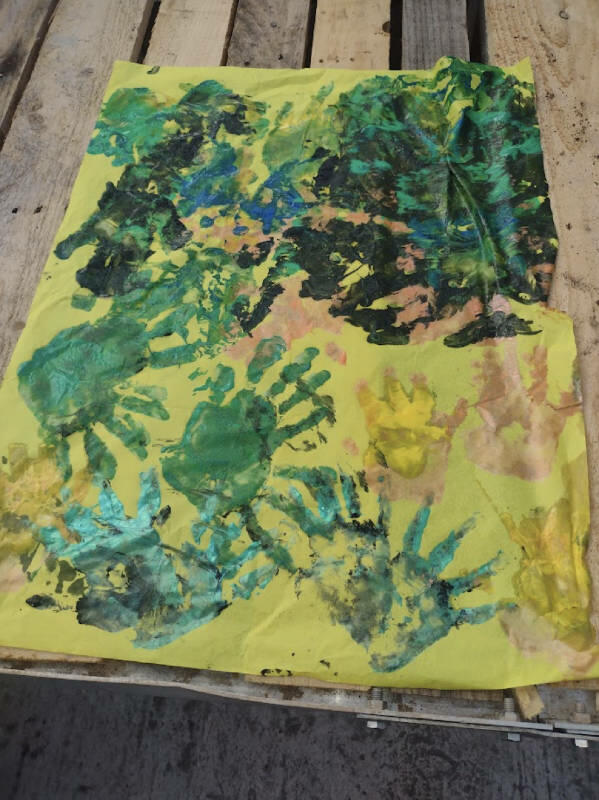 One of our two-year-old crafters loved making pictures with leaves and said, 'I'm a toddler and I'm an artist!' Well, this young artist certainly gets our vote! Two more babies arrived, one dressed as Dracula, he looked fangtastic! (Sorry about the joke…) And loved getting messy. We had a group of three artists, two siblings and a friend who worked together, remember there is no 'I' in team, well not in this group anyway. The three of them worked together from one table to the next embracing every bit of creativity they had. Painting, colouring, sticking, inventing Halloween flowers, making
spooky binoculars, a range of Halloween jewellery, and play dough models, the got elbow deep in paint – quite literally, but nothing that a few baby wipes and a watering can couldn't sort out. And then they did it all again!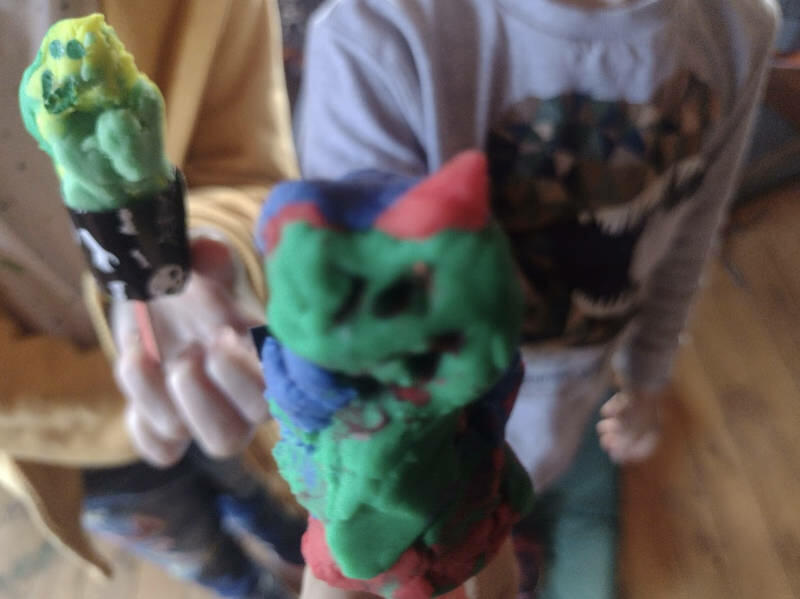 We were very grateful to have 15-year-old Zoya on board, our Gen 3 volunteers. Zoya who is working towards her Duke of Edinburgh bronze award certainly earned her stripes today. Zoya used her art skills, and great they are too, to design our A-frame notice board, she feng-shuied our Halloween decorations, deciding a bit to the right, no, a bit to the left… making the eco centre look fangtastic! (sorry again, it's an oldie and a goodie!).
We are also very grateful to 11-year-old Ruby who prepared our second day of crafting, cutting, colouring, painting and organizing, not to mention, drawing our barfing mummy and helping the smaller children with their scarily good projects, such as our cotton wool clad ghosts, creepy spiders and funny mummy's! And talking of mummy's what do a group of enthusiastic children, one would be mummy and a whole load of toilet roll make – a game called, 'wouldn't it be funny to wrap up a mummy – and it certainly was!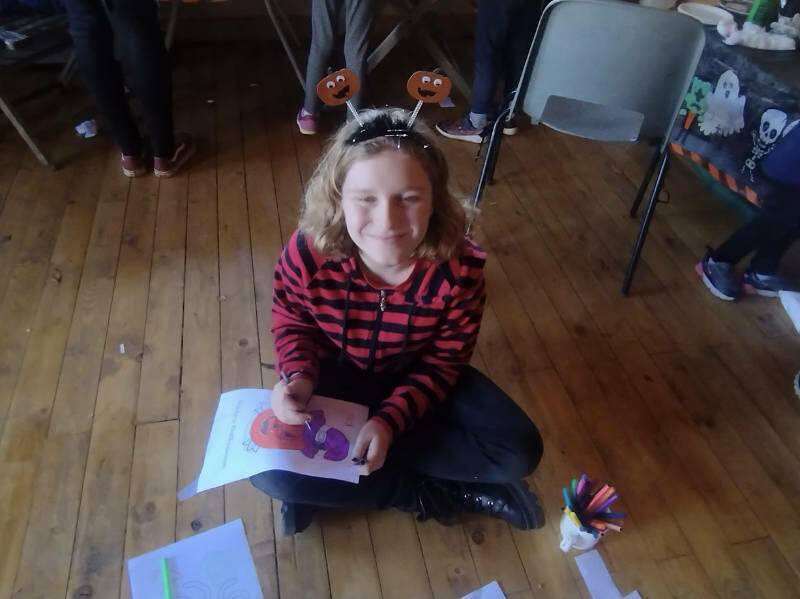 All the amazing artwork was placed in the greenhouse to dry while we continued with more super crafting, it was like a brilliantly vivid creative production line. But before we could say BOO, two hours of ROARING fun had passed by and it was time to clear up, we invited parents to make a sharp exit while we packed up – it was a welcome getaway!
There was also time for everyone who joined us who didn't know or who hadn't seen the amazing eco-centre before to have a look round. We believe it's a place of calm, tranquility, growth, sustainability, education, supports local wildlife produces, flowers, fruit and vegetables and is a place to sometimes just sit in the summer and listen to the bees buzzing, feel the sunshine on our skin, watch the sun flowers waving in the breeze and in the winter, hear the rain rapping on the greenhouse glass, or watch the snow fall in the coziness of the wooden cabin. Every one of our visitors loved exploring the eco-centre – it may have been their first visit, but we are certain it won't be their last.
We'd like to thank everyone that joined us for Halloween crafting it's been a real joy, to the brilliant mini-artists, the parents, our amazing volunteers, Sophia, Zoya and Ruby and to the Moorpool Heritage Trust Committee ?????  too, who always go the extra mile and then another one…
So, it's Happy Halloween from us and it's happy Halloween from THEM!
Them, you say?
DON'T LOOK BEHIND YOU……!